An official Southampton FC Academy at ABQ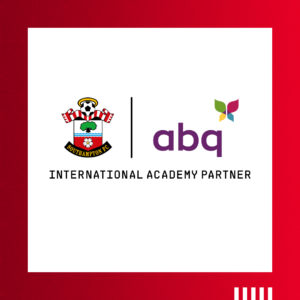 At ABQ, we pride ourselves in offering students a well-rounded education so that they can reach their full potential and be the very best they can be. Staying true to our aim of becoming the frontrunner in school sports, we are very proud to explain our 3-year partnership with Southampton Football Club in more detail in the form of frequently asked questions:
Who is Southampton Football Club?
Southampton F.C. is an English professional football club based in Southampton, England. They are one of the founding members of the Premier League, the top tier of English football.
Why did ABQ choose Southampton Football Club?
Southampton Football Club is recognized across the world as a leading authority in youth player development. They have an excellent track record of producing international players using the Southampton Way – focusing on technical skill, dynamic play and entertaining soccer. The Southampton Way includes five values: respect, unity, accountability, creativity, and aspiration, which are in line with ABQ's values and objectives as a Group.
There are stronger clubs in the Premier League, why Southampton?
In the English Premier League, Southampton may not be considered a fierce rival, but in the business of training and nurturing talents to become world-class players, Southampton has made its mark. They consistently produce talent to the envy of many of England's biggest clubs.
What is special about the SFC Academy?
SFC's success was built on its rigour and forensic approach to player development. SFC prepares players to perform on the pitch and to thrive in life beyond it. They call it  'Turning Potential into Excellence'. This mission is delivered through their unique culture and footballing philosophy – The Southampton Way.
Does the Academy replace football as an ECA at school?
Football is offered both as an ECA option for all students interested in playing football at school, as well as the Academy. The latter is an elite membership for those students with natural talent, keen interest, the will to succeed and a more advanced skill set.
Is the SFC Academy for boys and girls?
Even though we have some very talented female players, most of our current footballers are boys. The Academy is currently for Grade 1-12 boys only. As soon as we have enough suitable candidates in the various age groups, we will be excited to launch the Girls' Academy as well.
May anyone join the Academy?
This initiative is based on quality, not quantity. We are therefore accommodating 40-50 of the most skilled Primary School players, and the same number for Secondary.
How can my child join the Academy?
Open Trials are offered at school twice a year.
My child was not selected during initial trials, will they be able to join later?
Students showing significant progress and commitment could progress from the ECA Club to the Southampton Academy throughout the year when positions become available.
What is expected of an Academy player?
It is an honour to be selected for the Academy team, we, therefore, expect students to show commitment and respect toward the coaches and the rest of the team by arriving on time and attending every practice session, wearing the agreed kit (PE clothes initially), be open to the coach's feedback, show effort and, most importantly, have fun.
The Academy practices for 2 x 90-minute slots per week, outside of school hours and students are responsible for their own transport.
Who coaches the students?
Designated staff members are being trained on a continuous basis by Southampton Academy and for further inspiration, we invite ad hoc guest coaches to visit our academy to sharpen specific skills and keep the teams motivated.
What do Academy players wear to practice?
For now, players wear their ABQ PE uniforms, but we are in the process of formalising a unique Academy kit with the official Southampton supplier, Hummel.
Is there a cost involved?
There is a 20 OMR once-off registration fee, as well as a cost of 40 OMR per semester. When the kit is ready, it will also be made available for ordering.
How are the students grouped during training?
The students are grouped according to grades.
 May parents watch the players during practice?
Yes, parents are welcome to watch the players during football practice. This will give them the opportunity to see your child's progress and development.