Our Padel stars in action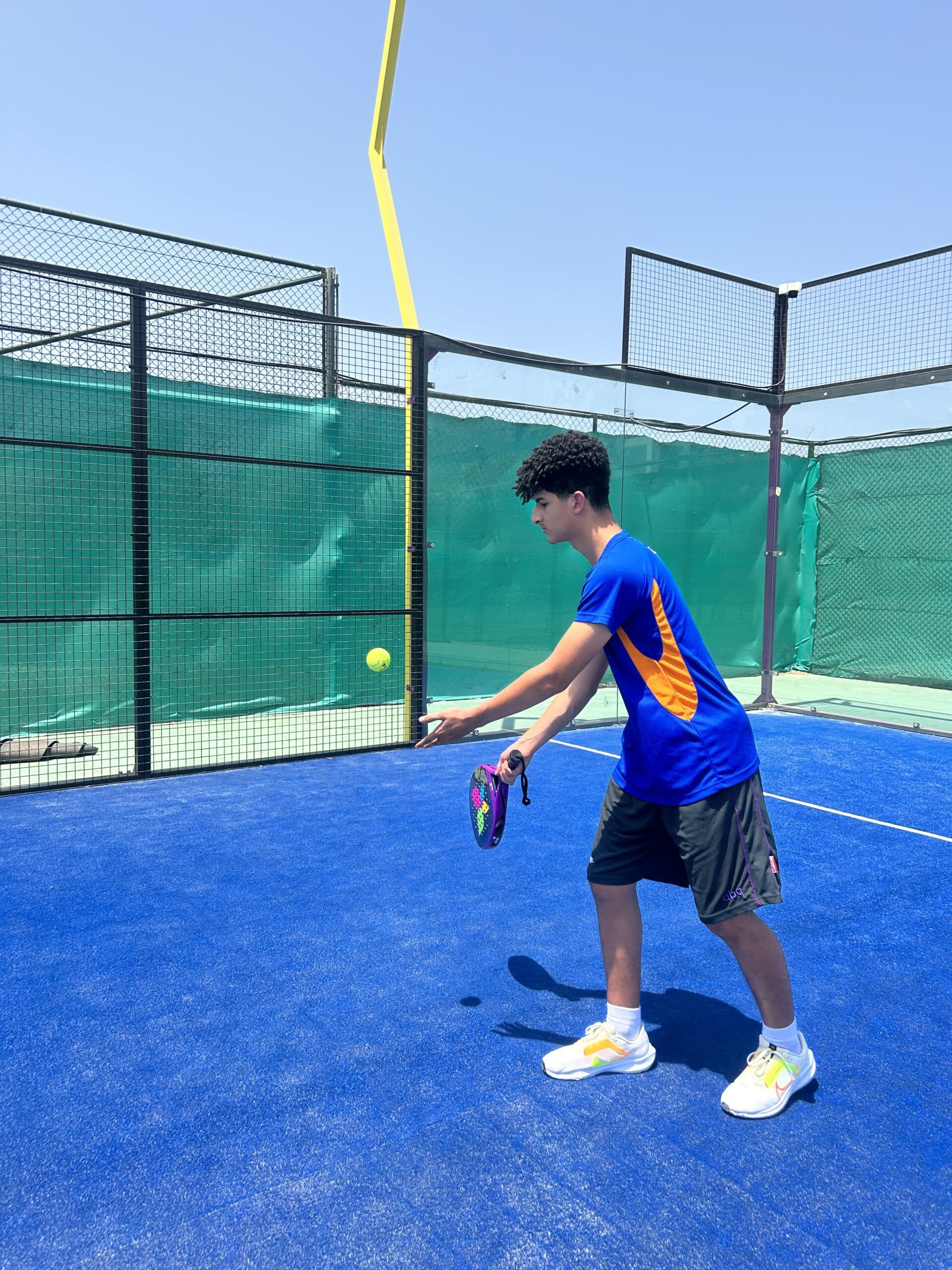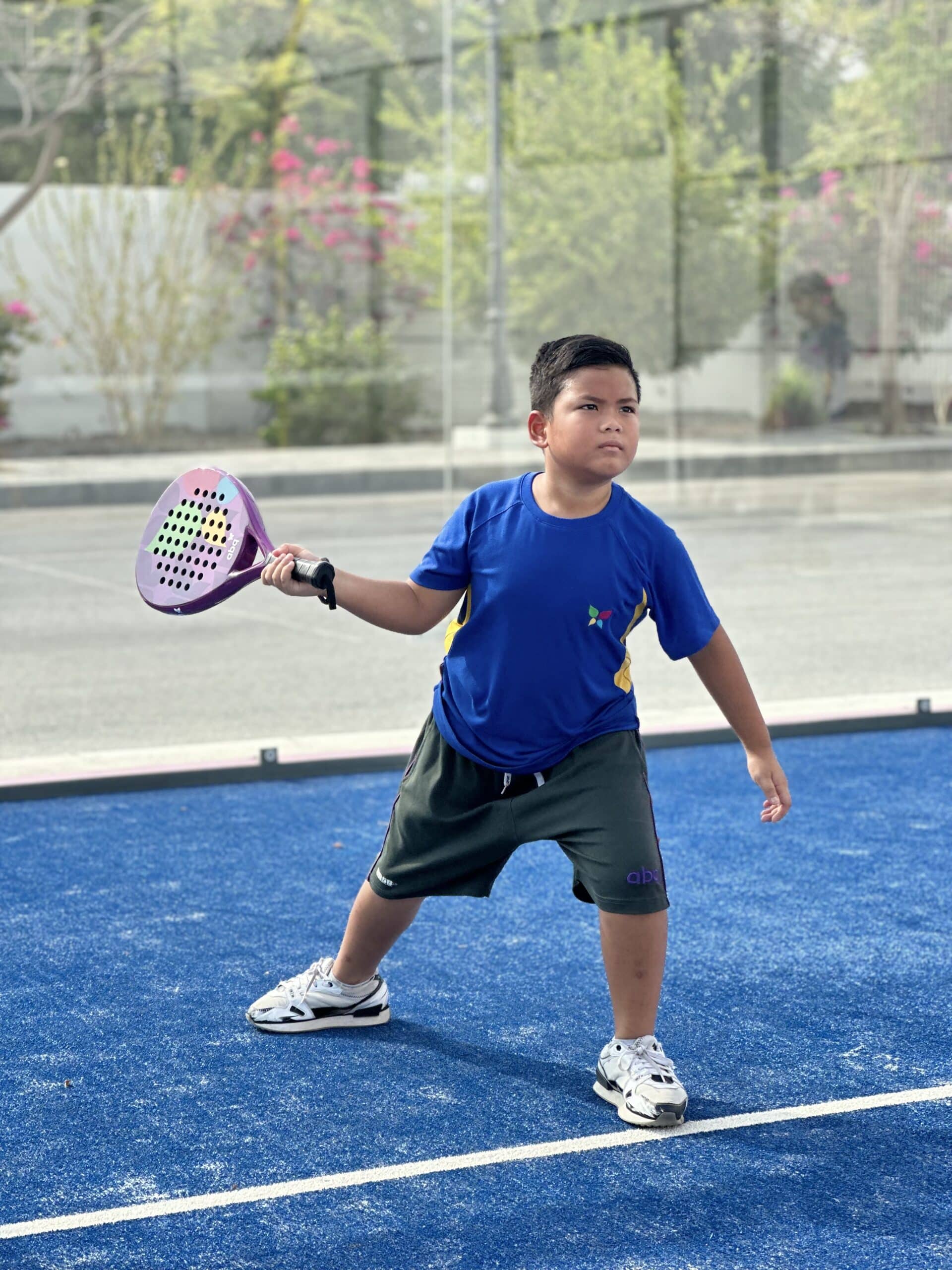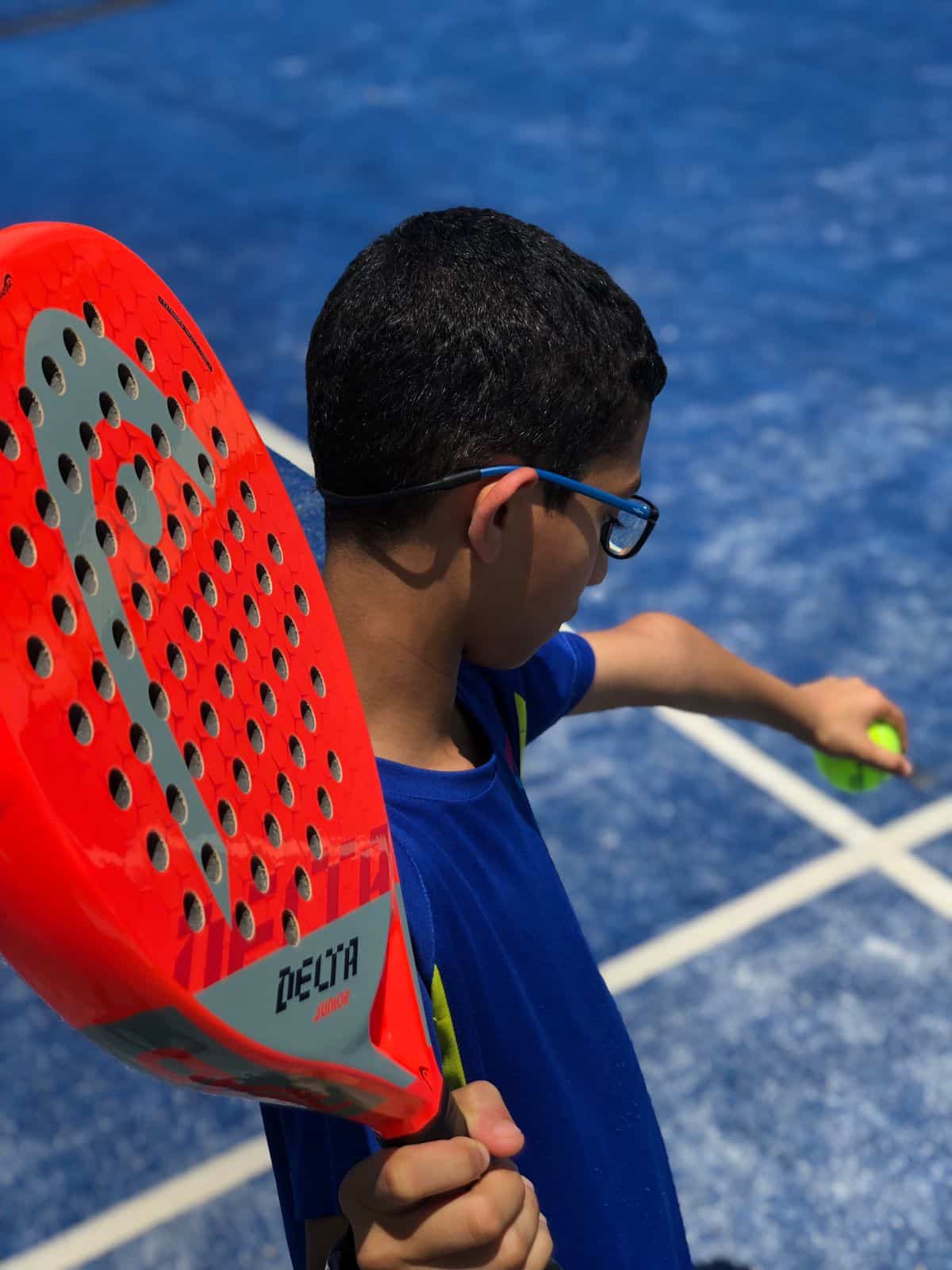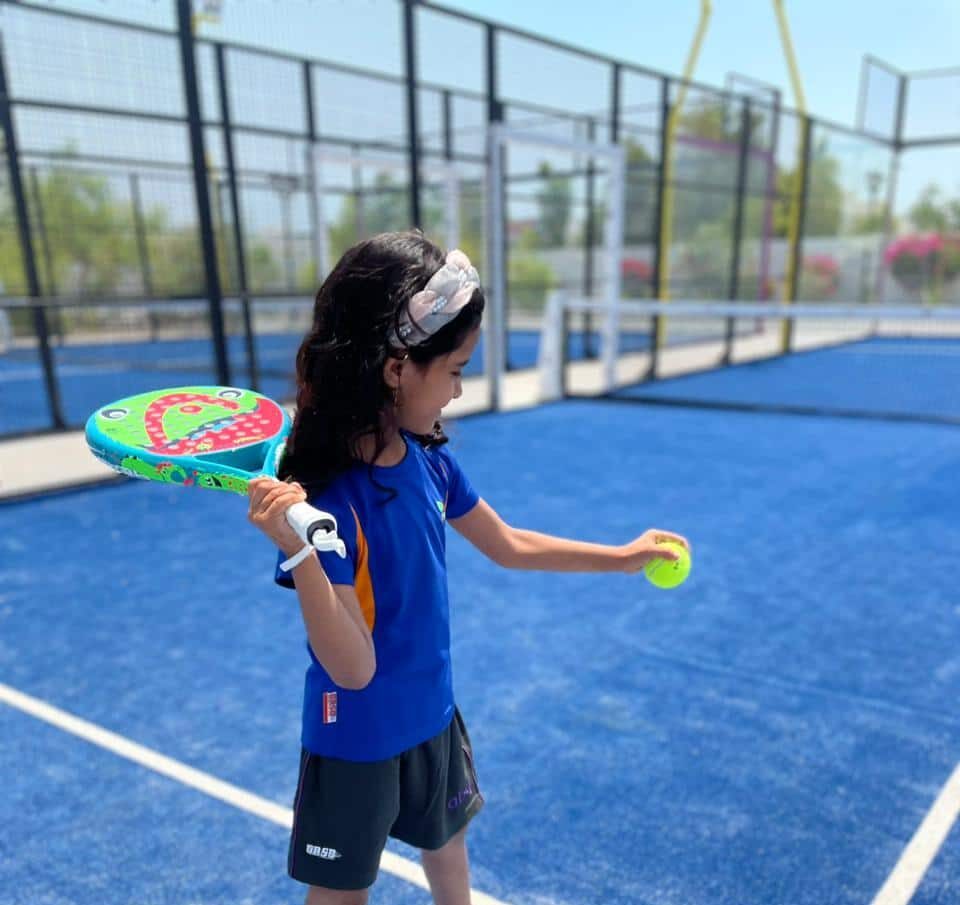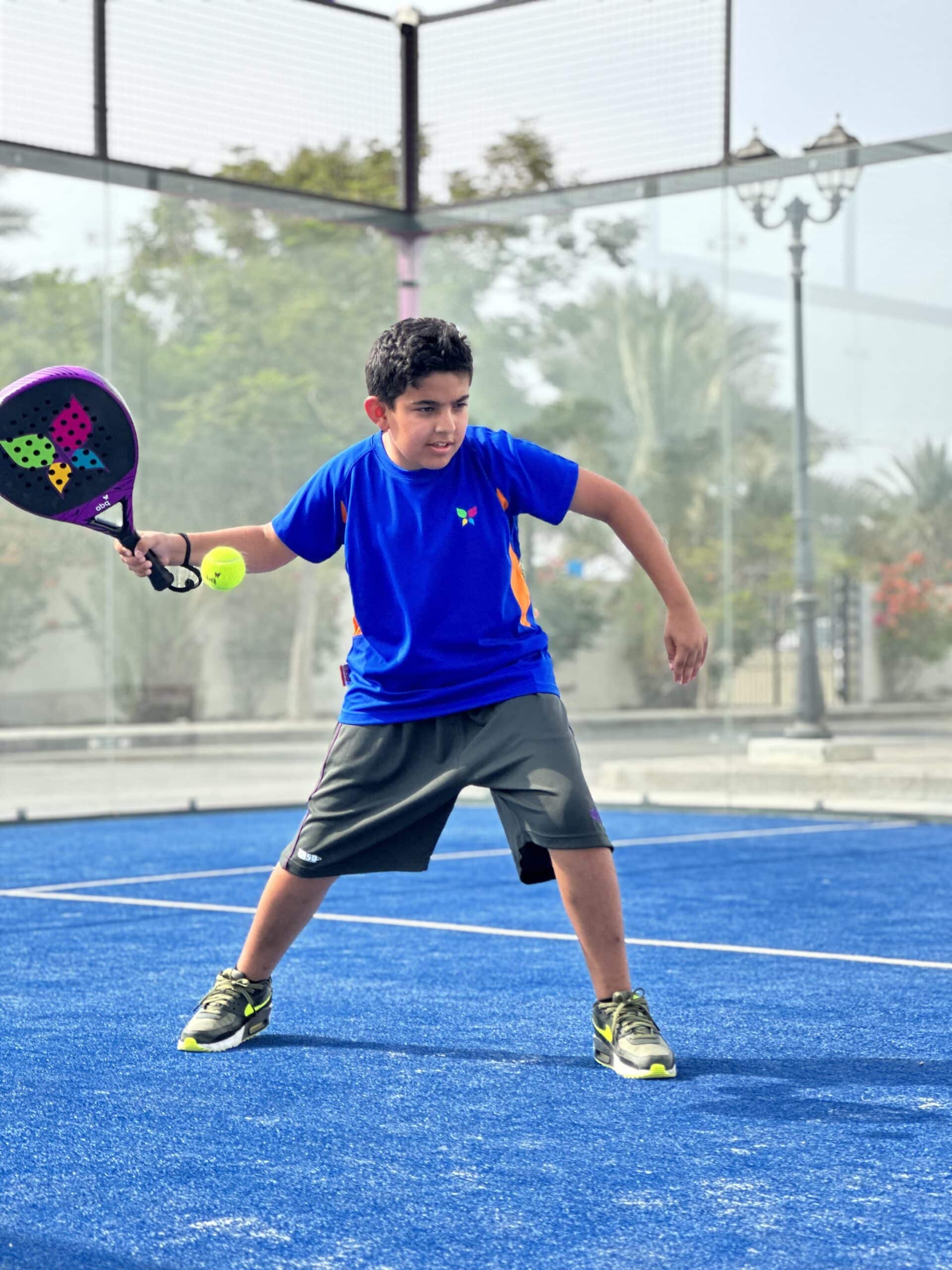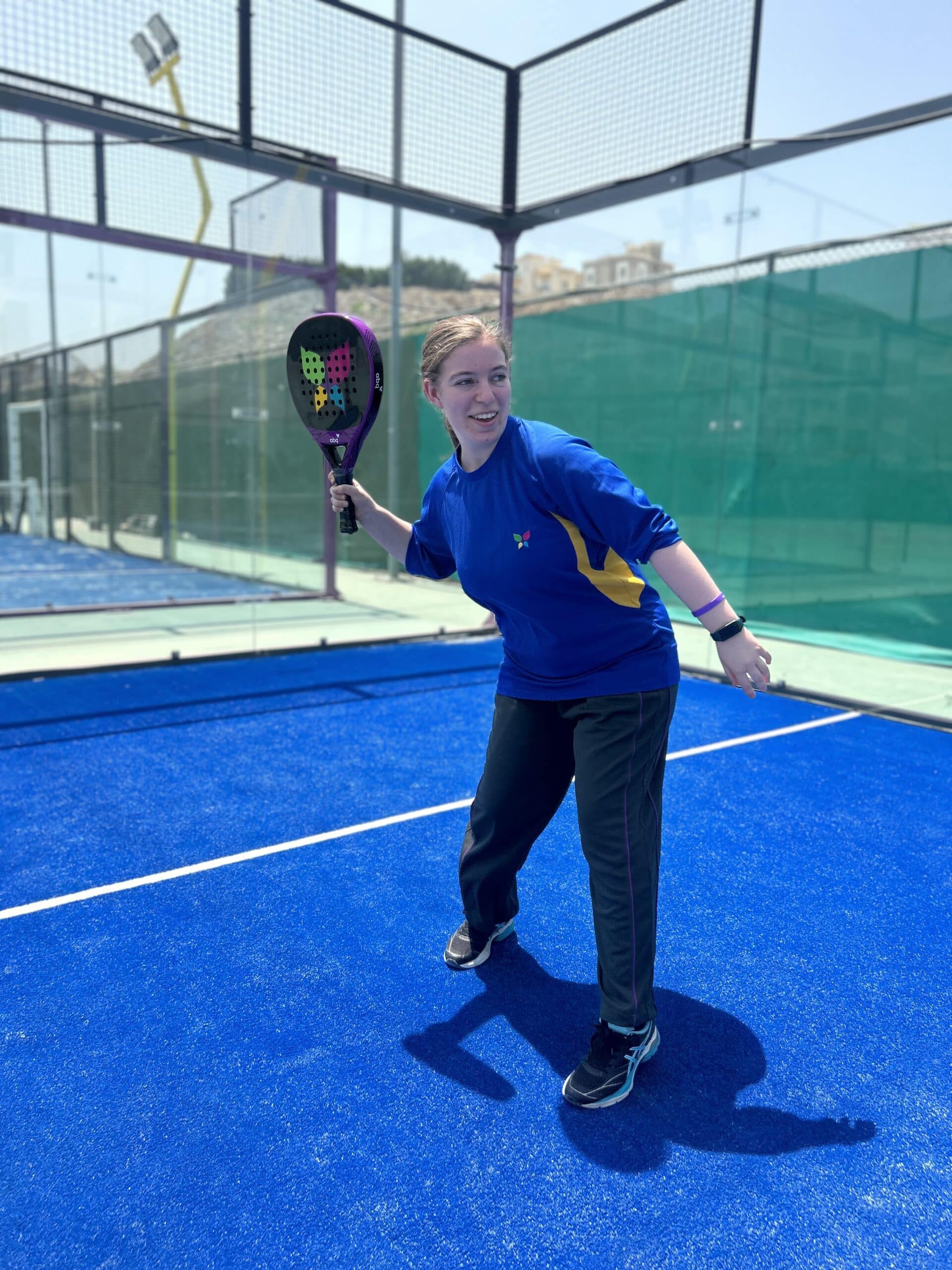 ABQ Padel
Along with being a leader in international school education, ABQ also aims to be the frontrunner for school sporting activities.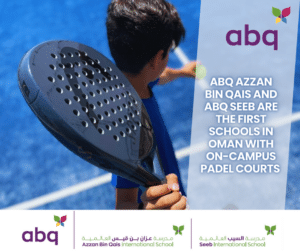 The introduction of on-campus Padel courts at ABQ Azzan Bin Qais and ABQ Seeb is a significant step towards modernising sports education in Oman. ABQ's commitment to providing a well-rounded education that includes physical activity and sports is commendable, and the introduction of the Padel courts is a testament to that.
The ABQ courts have been built to international standards and are equipped with the latest technology.
TERMS & CONDITIONS
By accessing the booking app, we assume you accept these terms and conditions. Do not continue to use ABQ Padel if you do not agree to take all the terms and conditions stated on this page. The following terminology applies to these Terms and Conditions, Privacy Statement and Disclaimer Notice and all Agreements: Client, You and Your refers to you, the person who logs on to this app and is compliant with the Company terms and conditions. The Company, Ourselves, We, Our and Us, refers to our Company. Party, Parties, or Us, refers to both the Client and us.
Intellectual Property
All intellectual property rights, including but not limited to, all trademarks, copyright and database rights, in the content and materials included throughout the App, including but not limited to, graphics, text, images, software, digital downloads and audio clips, are the sole property of ABQ Padel and/or its affiliates and are protected to the fullest extent by applicable trademark, copyright and database laws, and all such rights are reserved.
Use of Information and Materials
The information and materials contained on the App, and the terms, conditions, and descriptions that appear, are subject to change. Your eligibility for particular products and services is subject to the final determination and acceptance by us, and any agreement with us shall be subject only to a written agreement evidencing such agreement.
The App is for personal use and you agree not to modify, copy, distribute, reproduce, transfer or sell any information, material, software, products or services contained on the App [unless you have entered into a separate written agreement with us in relation thereto].
Links to Third-Party Apps
The App may contain hyperlinks to apps operated by third parties. We are not responsible for the content of these apps, and the inclusion of such hyperlinks on the App, is solely for your convenience, and in no way constitutes endorsement of the content of such third-party apps. The content, accuracy, opinions expressed and other links provided by these resources are not investigated, verified, monitored, or endorsed by us.
No Warranty Given
Whilst every effort has been made to ensure that the information published on the App is correct and reasonably up to date, the information has been provided on an is and 'as available' basis and your access to, reliance on and use of the App is at your own risk. As such, we do not warrant the accuracy, validity, currency, adequacy or completeness of the information and materials, and expressly disclaim liability for any errors, mistakes or omissions that may appear on the App and/or any page therein. No warranties of any kind, implied, express, or statutory, including but not limited to, the warranties of non-infringement of third-party rights, title, reliability, merchantability, fitness for a particular purpose and freedom from computer virus, are given in conjunction with the information and materials.
Exclusion of Liability
In no event will we be liable for any damages, including without limitation, direct or indirect, special, incidental, or consequential damages, losses or expenses arising in connection with, or in any way related to, the App or use thereof or inability to use by any party, or reliance on the contents of the App, or in connection with any failure of performance, error, omission, interruption, defect, delay or failure in operation or transmission, computer virus or line or system failure, even if we, or our representatives, are advised of the possibility of such damages, losses or expenses.
Indemnity
As a user of the App, you agree to indemnify us from and against all liabilities, costs, expenses, and damages that arise or may arise out of, or in relation to, [i] any claim resulting from the use of this App, or [ii] use of this App whatsoever.
Limitations on Use
As a user of this App, you agree to not abuse the App in any way. This shall include, but is not limited to, defamatory, threatening or abusive conduct that violates another's personal rights at law; violation of any intellectual property, trademark and database laws; harming or interfering with the operation of another person's hardware and/or software by uploading, transmitting or downloading computer viruses or any corrupt files; transmitting or otherwise disclosing trade secrets or any other confidential material or information; or directing any bots, spiders, crawlers, avatars or any other automated process that may debilitate the App, our software, network or infrastructure.
Financial Information
We disclaim in full any liability in relation to your financial information and you hereby agree that we shall have no liability to you in respect of any financial information or data that you may transmit to us.
Submission of Information
All information submitted to ABQ Padel via the App shall be deemed and remain the property of ABQ Padel who shall be free to use, for any purpose, any ideas, concepts, know-how or techniques contained in information a visitor to the App provides ABQ Padel through the App, subject to any obligations of confidentiality or privacy regarding submitted information as agreed by ABQ Padel.
Amendment
These Terms and Conditions are subject to change and can be modified at any time without notice. Your continued use of the App following the posting of changes to these Terms and Conditions further signifies that you accept such changes.
Legal Disclaimer
We reserve the right to disclose your personally identifiable information when we believe that disclosure is necessary to enforce or apply our Terms and Conditions, protect our rights at law and/or comply with any judicial proceeding, court order, or legal process served on our App, or as required by law.
Governing Law and Jurisdiction
By accessing the App and obtaining the facilities, products or services offered through the App, you agree that the laws of Oman shall govern such access and the provision of such facilities, products/services, and these Terms and Conditions. You further agree to submit to the exclusive jurisdiction of the courts of Oman in relation to any dispute arising from, or in relation to, these Terms and Conditions or the App.
License
Unless otherwise stated, ABQ Padel and/or its licensors own the intellectual property rights for all material on ABQ Padel. All intellectual property rights are reserved. You may access this from ABQ Padel for your own personal use subject to restrictions set in these terms and conditions.
You must not republish, sell, rent, sub-license, reproduce, duplicate/copy, or redistribute content or material from ABQ Padel.
No use of the ABQ Padel logo or other artwork will be allowed for linking absent a trademark license agreement.
Reservation of right
We reserve the right to request that you remove all links or any particular link to our App. You agree to immediately remove all links to our App upon request. We also reserve the right to amend these terms and conditions and its linking policy at any time. By continuously linking to our App, you agree to be bound to and follow these linking terms and conditions.
Removal of links from our app
If you find any link on our App that is offensive for any reason, you are free to contact and inform us at any moment. We will consider requests to remove links but we are not obligated to or so or to respond to you directly.
We do not ensure that the information on this app is correct, we do not warrant its completeness or accuracy; nor do we promise to ensure that the app remains available or that the material on the app is kept up to date.
Terms and conditions: General
ABQ Padel is committed to safeguarding and promoting the well-being of customers and players. Everyone should show respect and understanding for the safety and welfare of others. All players and visitors are deemed to have read and AGREE to all ABQ Padel Terms & Conditions.
GENERAL: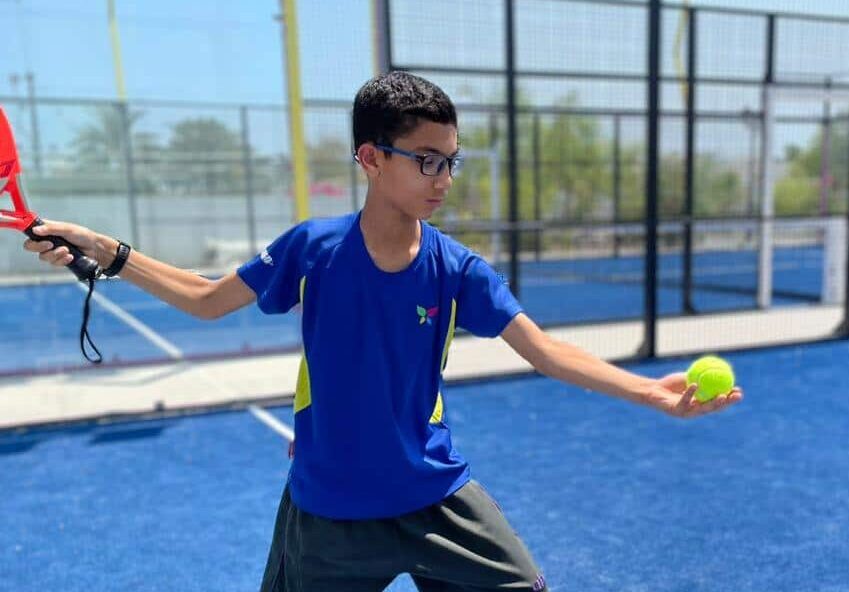 • Pets are not permitted on the courts.
• Riding bicycles and scooters or anything similar is strictly prohibited in the facilities.
• Food and refreshments may be consumed outside the playing areas only.
• People not playing sports should respect players on the court by not making too much noise or causing any distractions.
• Please respect your own and others' possessions. ABQ Padel/ABQ Education Group accepts no responsibility for items lost, stolen or damaged on the premises.
• Lost property, balls or equipment found should be handed back to the owner, the person in charge or to Security.
• Damage caused whilst at ABQ Padel is chargeable to the offender(s). To the extent permitted by law, ABQ Padel will not accept responsibility for any injuries incurred during play at our premises.
• Personal items should not be left on the premises overnight.
• Appropriate sporting attire should be worn on the court and shirts must be worn at all times.
• Players are required to wear non-marking footwear when on the court. Players may not wear metal studs or any form of studs on any of the courts.
• Only coaches who have an ABQ Padel Coaching Agreement may coach clients and/or charge for coaching services using our courts.
• ABQ Padel reserves the right to refuse admission to the facilities to any person whether or not a fee has previously been paid in respect of entry and/or the use of the facilities of the Centre.
• ABQ Padel reserves the right to require any person to leave the Centre at any time without refunding any fee paid for entry or for the use of any facilities.
Court bookings
• Court bookings are available on a 60, 90 and 120 minutes basis. A pay-before-you-play policy is enforced.
• Subject to availability, court bookings can be extended for an additional fee in advance whilst on the court.
• A full fee applies to pay if you continue to play after the booked time if the court is available.
• Court bookings must be made online and will be confirmed by ABQ Padel.
• Court fees are fixed irrespective of peak and off-peak times. Prices may be changed at any time without further notice.
• The specific allocation of court can only be confirmed on arrival at the Centre.
• Court bookings should be made in the name of a player who will be on the court. Players may be asked to leave the court if the named person who made the booking is not present unless otherwise communicated beforehand.
• Attendance later than 15 minutes after the hour may result in a loss of booking and the court being allocated to another player.
• Only coaches approved by ABQ Padel may operate on the courts, and book courts in advance for individual coaching lessons.
• Adult supervision is required at all times when booking courts for juniors.
• Refer also to the Cancellation Policy.
Group coaching: courses, squads and camps
• Registration should be completed prior to the course start date (exceptions can be made by the Coaches). Payment must be made on registration to secure a place.
• Places are sold on a first-come first-serve basis.
• A signed consent form is required for all junior programmes.
• Once the maximum number of attendees is reached, a waiting list will be created and attendees contacted if the program is to be extended.
• If a course is undersubscribed and cancelled, the Coach/Centre staff will suggest alternative arrangements to attendees.
• A missed session may be caught up only via another suitable session at the discretion of the Senior Coach. The arrangement must be made in advance.
• Missed sessions may not be transferred to weekend drop-in sessions.
• Missed sessions will not be credited unless there are exceptional circumstances e.g., doctor's note.
• Players must inform us of any medical condition, or disability, which may be relevant to the adult or child booked onto a course. Players must also notify us of any change or deterioration of any such medical condition or disability. We will keep this information confidential and handle such issues with discretion. It is our policy to include any such individuals in the scheduled courses wherever possible, but we reserve the right to refuse the booking if we are regrettably unable to accommodate the needs of the individual.
• We reserve the right to refuse entry to a course or advise a more appropriate session if any participant is found not to be of the correct age/ability or is unable to complete a course due to being in the incorrect age/ability group.
• We are unable to accept replacements in lieu of your booking.
• In exceptional circumstances and where camp/course capacity allows, the Senior Coach and staff may authorise for an attendee to transfer the reservation to/from another term.
• Refer also to the Cancellation Policy.
Junior Coaching
• All children booked for junior courses are fully supervised, but we cannot undertake to supervise children using the courts at other times.
• All children booked onto junior courses and camps must bring appropriate weather protection on the court at the beginning of the session. They are not permitted to leave the court without permission from the coach.
• Permission for children to go home alone must be given in writing. If written permission is not received and contact cannot be made with the parent/guardian, we will keep the child until they are picked up or contact is made.
Individual coaching
• Individual coaching sessions must be booked via the ABQ Padel App.
CANCELLATION POLICY
CANCELLATION POLICY: COURT BOOKINGS
• Any court cancellations should be made with more than 24 hours' notice prior to the court booking time.
• Cancellations made within 24 hours will be charged the full fee.
• Cancellations must be made online via the Booking App.
INDIVIDUAL COACHING
Individual coaching sessions cancelled more than 48 hours before being eligible for a 100% refund. Individual coaching sessions cancelled less than 48 hours before being eligible for a 50% refund. This is at the discretion of the management.
Our refund & cancellation policies are in place to ensure clarity to all customers in cases where cancellation occurs. The policy is also in place to protect the company from cases where refund or credit can or may incur costs to the organisation.
By accepting ABQ Padel Terms & Conditions, I understand that ABQ Padel reserves the right to make any necessary changes to the program and that credit or refund is only available where ABQ Padel does not incur a cost as a result of cancellation this includes late notice cancellation and unexplained absence.
• ABQ Padel reserves the right to offer make-up sessions to replace any cancelled classes. If there is non-attendance at the make-up session, then no further refund or credit option is available.
• ABQ Padel may cancel events and activities in circumstances out of our control, such as government announcements & holidays and severe weather inclement. We will Endeavour to provide alternative venues, days or times for re-arranged events. In the event that these options are not plausible, we may be able to provide credits/refunds providing that ABQ Padel does not incur a cost which is detrimental to our business operations. All refunds/credits are at the discretion of ABQ Padel Senior Management.
• Please note that refunds will only be processed through the original mode of payment, i.e. cash will be made by cash refund and online payments will be refunded through the online platform.
• Any refund made to your credit card will dependent on the processing timelines of your specific bank.
• Refunds & credit will only be provided with authorization from ABQ Padel Senior Management and/or Directors.
PRIVACY POLICY
At ABQ Padel, one of our main priorities is the privacy of our visitors. This Privacy Policy contains types of information that are collected and recorded by ABQ Padel and how we use it.
References to our, us or we within this policy are to ABQ Padel MQ and ABQ Padel Seeb.
ABQ Padel forms part of the ABQ Education Group and your personal data may be transferred within this Group, as well as to ABQ Padel subsidiaries and holding companies. Such transfers shall always be done in compliance with relevant data protection laws.
We are committed to protecting and respecting your privacy. This policy explains the types of personal information we collect, how we process and use that personal information, who we share it with, how we protect that information, and your legal rights in relation to your personal information.
We are committed to abiding by this policy, as well as the requirements of applicable laws, in the operation of our business.
Please read the following carefully as it explains our views and practices regarding your personal information, and how it is handled. By accessing or browsing our system, you confirm that you have read, understood and agree to this policy in its entirety.
If you have additional questions or require more information about our Privacy Policy, do not hesitate to contact us.
Who We are
For the purpose of applicable data protection laws, the data controller is ABQ Education Group, Oman.
Information We Collect
The personal information that you are asked to provide, and the reasons why you are asked to provide it, will be made clear to you at the point we ask you to provide your personal information.
If you contact us directly, we may receive additional information about you such as your name, email address, phone number, the contents of the message and/or attachments you may send us, and any other information you may choose to provide.
When you register for an Account, we may ask for your contact information, including items such as name, company name, address, email address, and telephone number.
How we use your information
We use the information we collect in various ways, including to:
• provide, operate, and maintain our system,
• improve, personalise, and expand our App and mobile application,
• understand and analyze how you use our system,
• develop new products, services, features, and functionality,
• communicate with you, either directly or through one of our partners, including for customer service, to provide you with updates and other information relating to the App, and for marketing and promotional purposes,
• send you emails and messages,
• find and prevent fraud
Log Files
ABQ Padel follows a standard procedure of using log files. These files log visitors when they visit the system. All hosting companies do this and are a part of hosting services' analytics. The information collected by log files includes internet protocol (IP) addresses, browser type, Internet Service Provider (ISP), date and time stamp, referring/exit pages, and possibly the number of clicks. These are not linked to any information that is personally identifiable.
The purpose of the information is for analysing trends, administering the App, tracking users' movement on the system, and gathering demographic information.